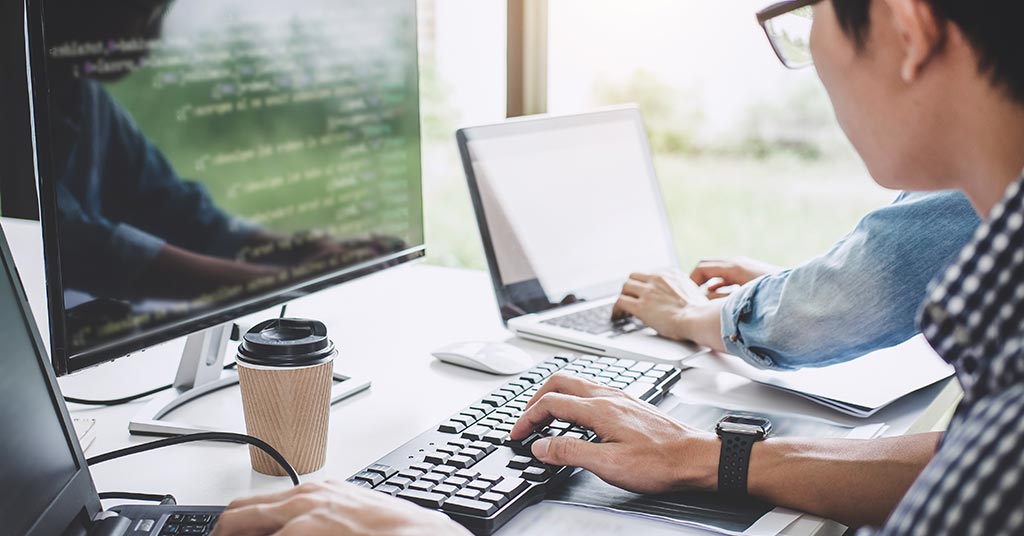 The best manufacturing software offers real-time, intuitive monitoring and control of operations, across business functions.
Manufacturers' software needs differ from one company to another. However, for all manufacturers – including small to medium businesses – enterprise resource planning (ERP) software is useful. It makes it possible to connect, streamline and better manage business and accounting processes.
ERP systems for manufacturers have evolved from other types of manufacturing software, from early MRP systems to SFC software.
Why consider manufacturing software for your company?
With advances in information technology, modern manufacturing software can make a significant, positive difference to manufacturers' bottom lines.
It can do this by:
ensuring that all personnel have the right information, exactly when it's needed, to make informed, proactive decisions
automating processes, for greater control and accuracy
helping integrate traditionally "separate" departments, from finance to inventory management, process control, and logistics
simplifying data capture, analysis, and reporting.
Here we offer an overview of the best manufacturing software types to consider for your business.
The basics: types of manufacturing software
Some types of software are designed specifically for manufacturers, while others are widely used across a range of industries.
MRP/MRP II
MRP stands for material requirements planning while MRP II refers to manufacturing resource planning. In practice, the key difference is that an MRP II system includes financial and capacity management features, which are absent from traditional MRP systems.
Both are systems used for inventory control, production planning and scheduling. They're used predominantly by purchasing, production, and delivery departments.
The key objectives of an MRP or MRP II system are to:
ensure the availability of materials for production
sync production with customer demand
minimize inventory levels, thereby reducing costs and improving efficiency
inform planning, scheduling and purchasing activities.
An MRP or MRP II system is most suitable for make-to-stock manufacturers, or those with large production lots and little variation in their products.
It's less suitable for make-to-order manufacturers, or those offering a high degree of customisation and small product lots.
The benefits of an MRP system depend on accurate, timely recording of stock and production records, and of finished operations and manufacturing orders.
MRP software can be thought of as a precursor to a more comprehensive ERP system, which offers better integration across business functions, ease of use, and scope for automated control.
MES
A manufacturing execution system (MES) is an information sharing system that monitors and controls complex manufacturing systems and data flows on the factory floor.
This type of system uses real-time data about performance, material management and works in progress to make it possible to track and manage the production lifecycle.
MES software can be used to:
track and control multiple elements of the production process, in real time
optimise plant floor conditions to improve production output.
An MES system can be considered a precursor to a modern ERP system, which provides better integration across functions and more streamlined control.
SFC
Manufacturing shop floor control (SFC) software enables manufacturing businesses to track, schedule and report on the progress of work.
Using an SFC system, personnel can capture and access real-time information about activities on the plant floor, as they happen. This enables proactive, responsive decision making.
Potentially, SFC software can improve resource planning, inventory management and control of on-floor productivity.
Like MPR and MES software, SFC software has been superseded by modern ERP systems, which incorporate similar functionality together with a range of other functions.
RMS
A recipe management system (RMS) is software for managing a manufacturer's production recipes. These are the sets of instructions that determine exactly how raw materials are transformed into manufactured goods.
An RMS is suitable for a business with a highly complex manufacturing process.
It can store and display recipes for the full process, enable editing of the recipes, and initiate required actions based on what's in the recipes.
Today, it's common to incorporate the functionality of an RMS in a more comprehensive application – one that can interface directly with equipment and that provides cross-functional tracking and control features.
ERP software
ERP software helps businesses manage and automate organizational processes, from financial management to planning and production scheduling, inventory control and logistics.
Modern ERP software for manufacturers typically offers:
integration across business functions
real-time data access
end-to-end supply chain visibility and management
streamlining and automation of processes, for better efficiency and accuracy
real-time analytics and powerful reporting features.
A suitably customised, cloud-based ERP is the best manufacturing software for most manufacturers. It can provide much of the functionality of other manufacturing software, in a single system.
SCADA
A supervisory control and data acquisition (SCADA) system allows high-level monitoring and control of manufacturing processes. Using programmable logic or discrete PID controllers, it interfaces directly with plant machinery.
For example, a SCADA system may gather and process real-time data, and use this to control equipment such as sensors, valves, pump, motors, and more.
Increasingly, leading manufacturers are making use of cloud-based SCADA systems.
Choosing the best manufacturing software for your business
The best manufacturing software for your business will depend on a range of factors, including the nature and size of your company, and its competitive strategy.
Although a number of different types of manufacturing software are available, these tend to overlap in functionality.
Rather than opting for multiple, potentially incompatible software products from different suppliers, aim to invest in a single system that can do everything you need it to do.
Other factors to consider include cost, availability of training and on-going support and the reputation and capabilities of the software supplier.
It also makes sense to find a supplier with experience in your industry. This is so your software provider understands the processes, terminology and needs that are relevant to your business.
Manufacturing software from GoSolutions
GoSolutions customises and deploys ERP systems for South African manufacturers, primarily using Microsoft Dynamics Business Central and Dynamics NAV.
Our custom ERP deployments are ideal for small to medium businesses, and can help manufacturers manage and grow their companies.
GoSolutions is a certified Microsoft Partner and our team of developers, consultants and support staff has 15 years of experience in deploying ERP solutions for specific industries. We also work with leading Microsoft Dynamics Business Central and Dynamics NAV partners, who offer powerful, industry-specific add-ons.
If you're currently choosing a Microsoft Dynamics partner, contact us online or give us a call on +27 (0)21 531 7206 to discuss the best manufacturing software for meeting your business's needs and challenges.