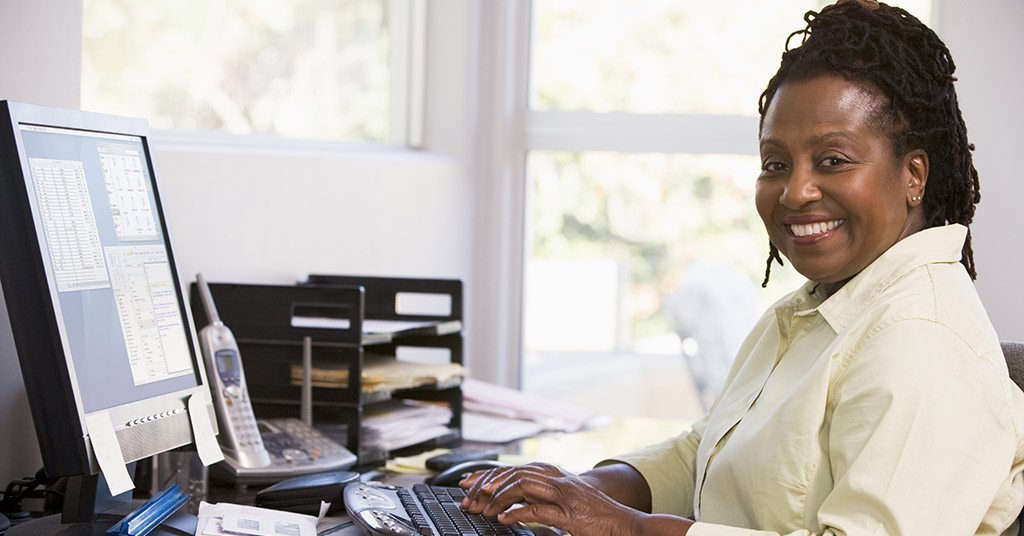 Along with other cloud computing applications, cloud-based enterprise resource planning (ERP) systems have gained popularity in recent years.
Some software providers argue that cloud-based ERP is the only way to go, and that any other system is "behind the times." Nonetheless, statistics show that the majority of companies still favour on-premises ERP implementation.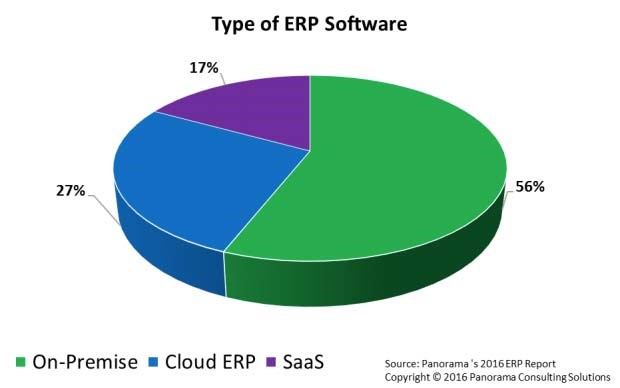 While the implementation of cloud ERP is showing growth, software as a service (SaaS) hasn't seen a lot of movement. Source: Panorama ERP Report
The truth is that both approaches have pros and cons.
Pros and cons of cloud-based ERP
Cloud-based ERP software is hosted on the service provider's servers and accessed by the client via the internet.
Pros
Lower upfront costs
Cloud-based implementations don't tend to require expensive hardware and server additions or updates. They also don't result in as much costly downtime for installation.
Faster implementation
Every deployment takes time, but cloud-based implementations are significantly faster than on-premises because they seldom require any additional infrastructure.
Mobile accessibility
Cloud-based implementations allow the client to have mobile access and sometimes even offer native mobile apps.
Cons
Offsite data security
While a reputable service provider will have stringent security standards in place to prevent breaches, some clients won't be comfortable with their data security being handled by a third-party.
Potentially higher costs over time
With cloud-based ERP there is usually a monthly subscription payment. Depending on the amount, this could accumulate over time to cost more than on-premises implementations which tend to have once-off fees.
Sometimes slower
If your internet connection is slow or you have a large number of employees accessing the same applications or data sets at the same time, cloud-based solutions can become slower than on-premises.
Pros and cons of on-premises ERP
On-premise ERP software is installed on a client's own computers and servers at the company's premises.
Pros
More customisable
Generally speaking, on-premises implementations offer more options and are more customisable than cloud-based. This ensures you don't end up with apps or modules you don't need or use.
Better data control
A lot of the data that an ERP system handles is confidential. On-premises ERP implementation gives you complete control over this data which makes it more secure. You also control the security measures used to limit access to this data.
Not internet dependent
On-premises systems aren't as dependent on an internet connection, so you can keep critical apps running when the internet is down. This is particularly useful in areas where the internet is unreliable.
Cons
Higher upfront costs
Implementing ERP software on-premises often requires updates to networking and server hardware and possibly even workstations. If at any time you want to upscale, this also tends to require additional hardware.
Less frequent updates
On-premises solutions usually have a slower update cycle. These updates also might include hardware or software changes which could mean additional costs and downtime for installations.
Additional fees for support
A cloud-based subscription generally includes help-desk support while on-premises might require additional payments for bug fixes and support. However, there are service providers who will include this support in the initial agreement.
ERP implementation with GoSolutions
At GoSolutions, we offer small to medium businesses custom implementations of both cloud-based and on-premises ERP systems based on Microsoft Dynamics NAV.
Our team of developers, consultants and support staff has 15 years of experience in deploying on-prem and cloud ERP solutions. As a certified Microsoft Partner, we also offer Dynamics NAV training and on-going support.
If you're currently looking for the best on-premises or cloud-based ERP software for your small to medium business, contact us online or give us a call on +27 (0)21 531 7206. We know what we're doing, and we can help.