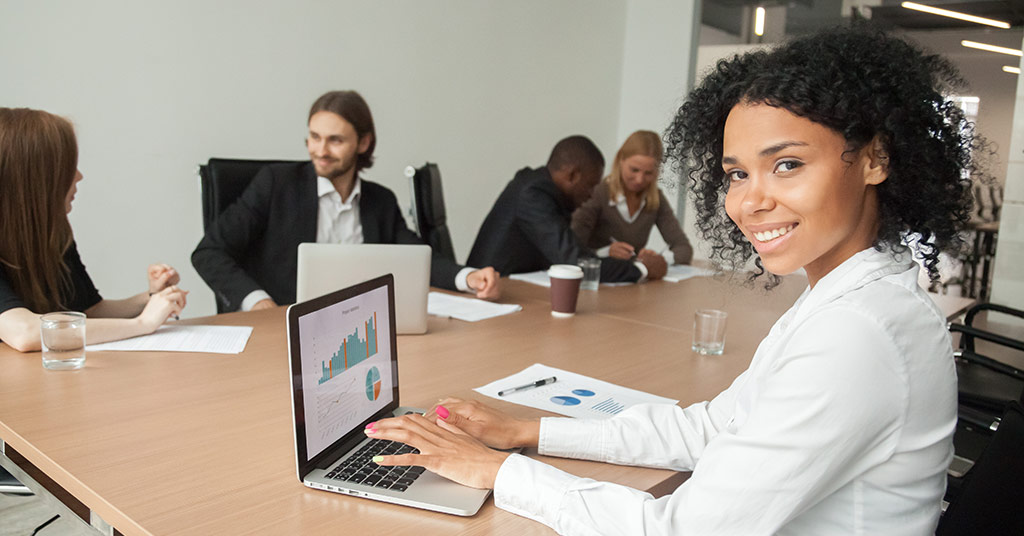 Making sure your business is compliant with the Broad-Based Black Economic Empowerment (B-BBEE) Act can be a headache. Fortunately, management systems that simplify this process are available.
Here we outline what South African companies need to do to comply with the B-BBEE Act, and offer information about a  B-BBEE Microsoft Dynamics NAV add-on, ideal for managing compliance in small to medium businesses.
What your company needs to be B-BBEE compliant
The requirements for B-BBEE compliance are based on the size of your business.
Exempted Micro Enterprises (EMEs)
These are businesses with an annual turnover of less than R10 million. All EMEs are exempted from B-BBEE compliance and receive automatic B-BBEE Recognition Level 4. An EME which is at least 51% black owned automatically receive level 2 status and those which are 100% black owned receive level 1. EMEs only have to obtain a sworn affidavit.
Qualifying Small Enterprises (QSEs)
These are businesses with an annual turnover of between R10 to R50 million. QSEs which are at least 51% black owned or 100% black owned are treated the same as EMEs, they receive automatic B-BBEE Recognition Levels 2 and 1, respectively, and also have to only obtain a sworn affidavit. The rest of the QSEs (less 51% black shareholding) must be verified through an accredited verification professional.
Medium to large enterprises (M&Ls)
These are businesses with an annual turnover of more than R50 million. These businesses must be verified by an accredited verification professional.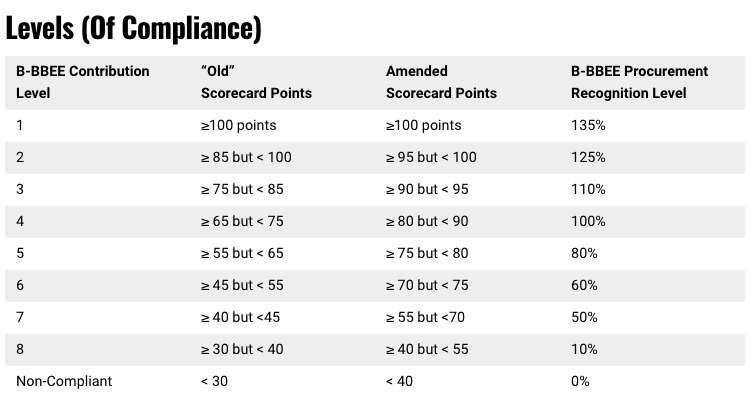 These are the levels of compliance that your business can achieve based on your scorecard. Source: Entrepreneur Mag
These are the seven elements of B-BBEE compliance. Each element contributes a percentage towards your company's overall B-BBEE score. A minimum score of 40 is required to achieve Level 8 compliance, which is the entry level.
The seven elements are as follows:
equity ownership
management
employment equity
skills development
preferential procurement
enterprise development
socio-economic development.
B-BBEE compliance management with Dynamics NAV
GoSolutions offers implementation of a Microsoft Dynamics NAV add-on that helps you manage your B-BBEE compliance. The add-on offers a number of benefits.
Scorecard templates
The add-on lets you use a template sector scorecard to determine your company's current BEE score. The scorecard will help you to identify improvement opportunities and set targets. You can also create new, periodic scorecards whenever required.
Current and historical B-BBEE data
Current and historical B-BBEE master data is provided as well as gazette dates for changes to legislation.
Capturing and tracking B-BBEE certificates
The add-on allows you to record verification period and submission data, issue and expiry dates as well as other key data relating to certificates.
Tracking vendor certificates
You can capture vendor B-BBEE certificates and key data. You can also use B-BBEE related fields to filter vendors based on given B-BBEE criteria. The add-on helps identify the best valid vendor certificate for your own submissions.
Comprehensive reporting
Comprehensive reporting helps when obtaining a vendor B-BBEE certificates and determining recognised spend information for a given BEE verification period. Preferential procurement spend with your vendors is calculated, along with the percentage spend for your specified BEE verification period, to establish a rating.
Alerts
The add-on will send you warnings in the lead up to a certificate expiry. It will also warn you if you select a vendor with a lower than expected B-BBEE contribution level.
Dynamics NAV deployment with GoSolutions
At GoSolutions, we work closely with small to medium businesses across a range of South African industries to implement custom Microsoft Dynamics NAV solutions that meet your business requirements, including those related to B-BBEE compliance.
GoSolutions is a certified Microsoft Partner and our team of developers, consultants and support staff has 15 years of experience in deploying ERP solutions. We also offer Dynamics NAV training and on-going support.
If you're interested in the B-BBEE compliance management add-on, contact us online or give us a call on +27 (0)21 531 7206 to find out more.